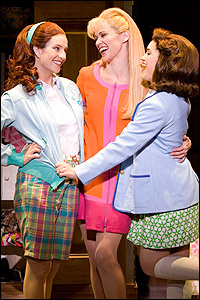 I'm embarking on a new journey called Musical Mondays. I want to spotlight some of my favorite musicals: old, new, popular, unsuccessful, hits, flops, and everything in between. These will not simply be my favorites shows, but more specifically the shows that were personally meaningful to me at one point in my life or currently. Come back every Monday to learn about another show that is near and dear to my heart!
I saw
Vanities
when it ran Off-Broadway at Second Stage in in the summer of 2009. It was supposed to transfer to Broadway, but it wasn't to be.
Vanities
a three-person show performed in three acts without an intermission. The story spanned several decades of the friends' lives from a Texas High School to an Upper East Side apartment. Kathy (Anneliese Van der Pol) Mary (Lauren Kennedy) and Joanne (Sarah Stiles) grew up together as cheerleaders and sorority sisters, but they went their separate ways after graduation. This show, with music and lyrics by David Kirshenbaum, is based on Jack Heifner's play of the same name which was wildly successful in the 1970s.
I was enamored with this show when I first saw it as a college Junior, but it's really stuck with me and I've been drawn to different parts of the show at different times in my life. I immediately connected with Kathy, the organized one, who plans every single aspect of her life down to the last second. She firmly believes that if she plans everything she can keep her life under control, and I can certainly relate. She leads the other characters on the cheerleading squad, as the head of the school dance committee, and later as members of Kappa Kappa Gamma. Her mantra is "Take care of little things, you'll have an organized life," while Joanne and Mary prefer to "let life happen, relax, and that is the key." The characters remain basically unchanged from high school (1963) to college graduation (1968) but the third act is where we see the changes.
As I said earlier, I was a Kathy through and through in high school and in college. I lived by my Lilly Pulitzer dayplanner and my to do list, but then something funny happened after I graduated college. I looked around and nothing worked out as I had planned. This is where we find Kathy at the beginning of act three. It is 1974 and the once inseparable friends have reunited on Kathy's Upper East Side terrace after half a decade. We learn that Joanne, who has always dreamed of having a family is happily married with several children, or so it seems. Mary, who creates erotic installation artwork, blows up this fantasy when she reveals that she's been having an affair with Joanne' husband Ted. But even though their lives are falling apart, they rely on Kathy to have it all together. Much to their surprise, she has lost her job, and "spent a couple of years hanging out at every singles bar, and every therapy group on the east side." She then became so depressed and she couldn't leave her house. Her friends are shocked that her life didn't go according to plan. The rest is in the lyrics:
I sat around all day, without the slightest clue,
It shouldn't sound so sad, it's what I had to do,
'Cause I had worked so long, and I had tried so hard,
And I was so demanding, I was so relentless,
Always in control, and never letting down my guard,
And if that's how you organize your existence, you have an organized nervous breakdown,
You get strung out and neurotic, messed in the head,
That's what you tried to tell me way back in college, call it a bitterly hard-won knowledge,
But there's something to be said for simply living your life.
As someone who always joked that I would plan my own nervous breakdown, these lyrics hit me like a ton of bricks in my post-collegiate life when things didn't go even remotely as planned. They made me cry, they made me have full on breakdowns in my shower, but then they guided me forward, reminding me to stop trying to plan everything and just live! I loved this show so much and I wish that more people had gotten to see it. It's probably too small for Broadway, but I hope that it has life in regional theatre because so many young women could benefit from these characters and these lyrics. If it's playing in your area, go see it--you won't regret it!